DYNO COMPARISON
Weber 40IDF vs. Solex 40P11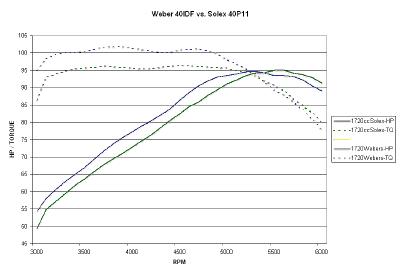 click to enlarge
Porsche 356 SC engine with 1720cc, Elgin 268 cam, CR 9.5:1, stock exhaust. Stock Solex 40P11 carbs and air cleaners vs. Weber 40IDFs (28mm venturis) with air horns and K&N air cleaners. Both jetted for correct fuel curve. Timing 36 degrees.
The smaller venturis, and better fuel atomization, of the Webers provide a much better torque curve.
Our WR Weber kits are jetted for correct performance with no flat spots!